The Sea Tramp Tattoo Company continues to remain as Oregon's longest running tattoo shop for over 30 years. It was originally opened by Bert Grimm (1900-1985), a legend of American tattooing, whose hand-painted flash sheets still decorate the walls of Sea Tramp. World famous Bert Grimm owned numerous shops around the nation, starting with his own St. Louis, MD shop in 1916. At one time, Bert toured with THE Buffalo Bill Wild West Show and is said to have tattooed legendary figures such as Bonnie and Clyde, and Pretty Boy Floyd. Bert really gained notoriety with 'Bert Grimms World Famous Tattoo' shop on the infamous Pike in Long Beach, California during the 1950's.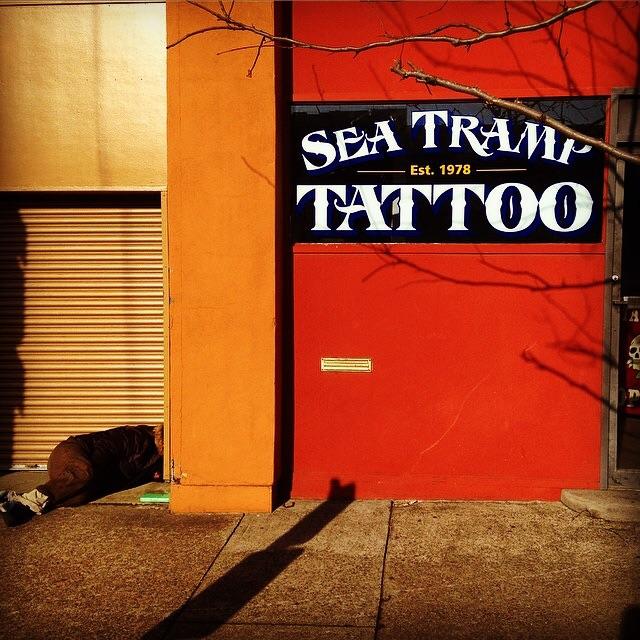 Renowned tattoo artist Bob Shaw purchased Bert's shop on the Pike in the late 1960's, keeping "Bert Grimm's" for the shop name as it went on to be the longest continually running shop in America for years afterward. Bert opened his last shop here in Portland, Oregon, but upon falling ill in 1977, brought help up from Long Beach: legendary Pike tattooers Dave Orlowski and Don Deaton (current owner to this day).
Soon thereafter, Portland's Bert Grimm shop moved into 'Miss Dee's Portland Tattoo' shop across the street from the original at NW 6th and Davis, where they remained until a mysterious fire in 1989 forced them to reopen across the river on SE Grand Ave. This remained the location until a move to SE Stark st. in 2015. This year we moved to SE 8th street. Supposedly ready for retirement, Bert sold his operation to Don and Dave in 1980 under the agreement that they could retain the 'Bert Grimm' name.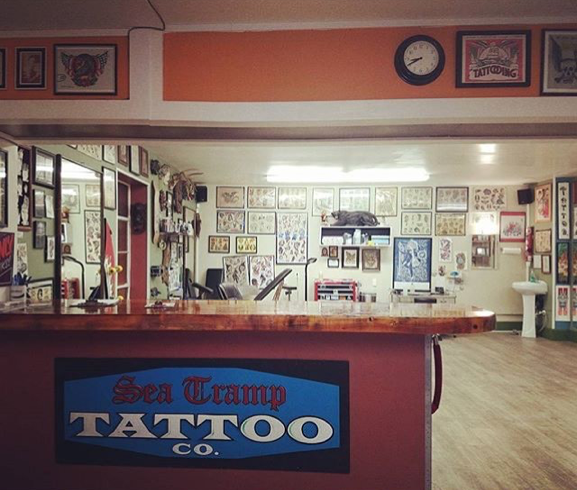 At the time of purchase, Bert changed his mind, forcing them to come up with a new shop name on the spot. At that moment, the Sea Tramp name was born, based on Don Deaton's favorite drawings of a seafaring temptress. Deaton's Sea Tramp gal and other original artwork are still displayed throughout the tattoo shop, as well as other hand-painted flash from Sea Tramp tattooists past and present. After almost 40 years in the industry, Don still tattoos by special appointment. Skot Ramsey, Sea Tramp artist for over 15 years, and tattoo artist for over 25 years, is taking on partial ownership of the shop to ensure the long history and tradition of the Sea Tramp name remain a fixture in the Rose City for the foreseeable future. Skot began like many artists in the 90's: self taught in a small town where nothing else was available. After practicing for a few years on his own, he moved to San Francisco in 2000 and was able to learn and practice with the best artists of the era! He attained a Bachelor of Fine Arts from Cal-Arts and then joined Sea Tramp in 2007. And, in the classic Pike style of tattoo shops, Sea Tramp Tattoo continues to be open 363 days of the year, accepting walk-ins until 12am.